Study, Work and Play When You Live in Tempe Homes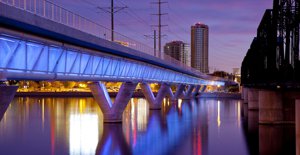 Located centrally within the Greater Phoenix metropolitan area, Tempe, Arizona provides its residents with a multitude of opportunities to enjoy the finer opportunities of life. Home to the Sun Devils and Arizona State University, the area boasts a vibrant cultural mix and plenty of activities. The Tempe History Museum and Tempe Center for the Arts are other popular attractions near Tempe homes.
Tempe provides living space to over 50,000 Arizona State University Students, and 22,000 staff members, creating an interesting population mix. More permanent residents are generally reported to be over 25 and educated, as well. In fact, more than 40% of those who live in tempe homes are reported to have earned a bachelor's degree from a university.
Explore Activities Near Tempe Homes
Arts and community are valued through Tempe and can be seen throughout the area with Art in Public Places projects. Displays are evident in architectural designs, sculptures and murals strategically placed in common areas, including the vibrant, "Don't Wake the Dreamer" mural along Hardy Drive, north of University Drive.
Many programs exist for more mature residents (over 50), as Tempe supports active community centers and programs, including recreation, education, and care, including Dial A Ride and meal delivery services. Golf, too, plays a large role in Temp, with two well-respected golf course, the Ken McDonald Golf Course and the Rolling Hills Golf Course.
Please give us a call at 602.435.6708 to discuss options and start your search for a Tempe home.